The holiday season is finally upon and Ms. New Beauty couldn't be happier! She's looking forward to the big family gatherings with so much food that she'll either have to wear pants with an elastic waistband or a long tunic to conceal her undone top button. She cannot wait to hit the stores and start shopping for perfect presents. And, her favorite part is heading out to pick out a Christmas tree and then coming home to decorate it. Now, she knows you're thinking - "MNB it was just Halloween, it really tisn't the season!" Well, for Ms. New Beauty, as soon as Macy's hangs up those red and gold garlands, the holiday season is here. And, MNB knows she's been a little MIA lately, so she definitely wants to start celebrating early by giving back and showering New Beauties with gifts. That's right, just like any other absentee relative, Ms. New Beauty is planning to make up for neglecting you and buy back your love with a big old gift!!!! MNB is packing her present box with all kinds of goodies from the M.A.C. Holiday Collections and she's giving them away! Read below to see just what you could get and what you have to do to win.

The M.A.C. Holiday Collections
Finery
These lipcolors are just so perfect for day and even better for night. It took a lot of real selflessness to part with them but I had to. My cup, and the lip color sections of my makeup case, runneth over. But you can enjoy these four petite purses each filled with three lipcolors in Plum, Coral, Tan or Pink color schemes.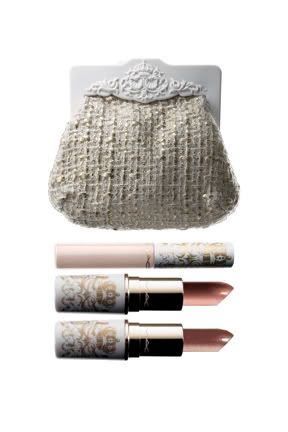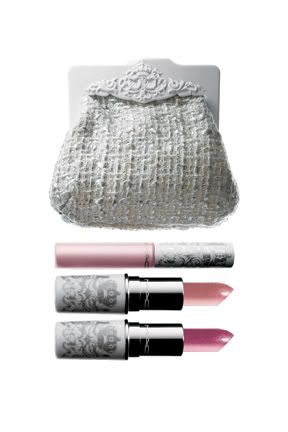 $32 each
Curiositease
Curiositease is a collection of five unique canisters filled with your M.A.C. favorites - Lipglass, Lustreglass, Plushglass, Pigments and SoftSparkle Eye Pencils. These would make perfect gifts for any fab lady in your life because they come in the prettiest packaging and all of the colors are so flattering.
$29.50 each
Viva Glamourous
Viva Glamourous is the special holiday edition of M.A.C.'s best selling and charity giving lip color - Viva Glam. As part of the giveaway, you'll get three cool toned shades of M.A.C.'s signature Viva Glam lip colors in a beautiful burgundy compact that benefits that M.A.C. Aids Fund.
$22.50
Heirlooms
The tools of the trade can really make a difference between a sultry and sexy smokey eye and looking like you got your ass kicked for trying to hold onto your lunch money at the jungle gym. Heirloom will make sure the former is in your future with this metallic clutch purse filled with five basic beauty brush essentials.
$48
Royal Assets


Now, we all know how much a sucker I am for pretty packaging. These metal compacts look like something passed down to you by your dear great-great-Aunt Margaret (because aren't great aunts always named Margaret?). The giftbox will include three eye palettes featuring six shades each in Cool, Warm, and Smokey shades and three lip palettes featuring three shades each in Coral, Red, and Pink shades.


So far, that's a retail value of over $500! And, that's not counting some other M.A.C. goodies I'm including from the Antiquitease collection and a few from this season's Smoke Signals collection. These holiday collections are beautiful to look at, beautiful to wear, and make beautiful gifts. You'll definitely want to win this one.

The rules couldn't be simpler - just sign up for an email subscription on the sidebar to the right. That's all you have to do. And, if you're already a Ms. New Beauty subscriber, you'll be automatically entered to win. The only stipulation is that if you've won a previous Ms. New Beauty giveaway within the past 12 months, you won't be eligible for this one. Gotta give everyone a fair shot to win. I'll be announcing the winner on November 30 so you have between now and 11:59 pm on November 29 to enter to win.


Enter to win, and remember that you always get more by giving away, and never forget that Ms. New Beauty told you!